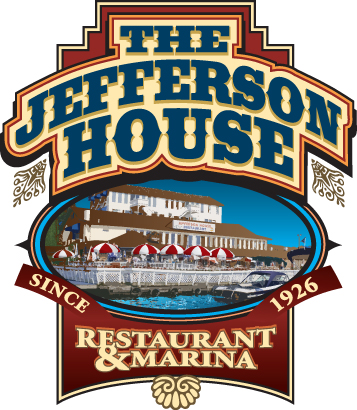 Lakefront Dining and Catering For All Occasions
THE JEFFERSON HOUSE RESTAURANT- offering great food and beverage in a casual lakefront setting as well as catering for banquets and special occasions. Located on the east shore of Lake Hopatcong at Nolan's Point, Jefferson Township The Jefferson House Restaurant has been an important dining and entertainment attraction on the lake since its construction in 1926. Continuous remodeling and renovations make its facilities and atmosphere second to none.
Home | Directions | Hours | Groups | Menu | Calendar | Banquets | Boat Tours | Sunday Brunch
139 Nolans Point Road, PO Box 930,
Lake Hopatcong, NJ 07849
(973) 663-3063
Calendar
Live music- (May-Sept) Click here for Entertainment Schedule from mid-May through mid-September.
Easter Sunday Brunch/Dinner
Brunch with Carving Station Featuring Prime Rib and Baked Virginia Ham. Seating 10am thru 4:00pm.
Mother's Day Brunch and Dinner Buffet
with Carving Station Featuring Prime Rib, Baked Virginia Ham & Fresh Turkey
Brunch Seating 10am-12pm • Dinner Seating: 1pm-5 pm. Click here for our Mother's Day Flyer

Fathers Day Brunch-
Brunch includes all of your favorite breakfast foods, Four hot Entrees, a carving station with fresh Baked Ham & Top Sirloin of Beef, and plenty of Dessert Choices.
Lake Hopatcong Independence Day Fireworks-
Enjoy an evening on our Lakefront Patio which provides the best "front seat" view for the annual Lake Hopatcong Fireworks Spectacular. Our outdoor cookout & barbeque buffet includes hamburgers, hot dogs, barbequed chicken & ribs, corn on the cob, salads, and deserts. Serving from 6:00PM until the until the evening festivities are over. Lake Hopatcong Fireworks 2016 have been rescheduled AGAIN from Saturday July 9, 2016 to Sunday July 10, 2016.

We will be having our BBQ Boardwalk Buffet starting at 6PM!!!

---
Prices, availability, and choices are subject to change. Limitations and restrictions may apply. Call the restaurant to obtain the latest pricing, choices, events, and availabilitly. This website is intended to be a general guide. This site is managed and maintained by Jason Wulf. Photos by Joyce Bambach- www.joycebambach.com